WCISA® · Wire and Cable Industry Suppliers Association® - is a nonprofit corporate membership association of North American suppliers of machinery, materials and accessories used for making all types of wire and cable. Members are based in or have an established subsidiary in North America. WCISA's mission is to promote its member's products and services by providing its members with representation, networking/social opportunities and services at wire and cable trade events and conferences. WCISA is active in wire and cable trade events and conferences throughout the world, in varying capacities, including as an exhibitor, supporter, sponsor and outing organizer. WCISA also awards to scholarships to employees and dependents of member companies as well as partner associations.
In 2021, WCISA Awarded 11 Scholarships:
WCISA 2021 High School Graduate Scholarship Winners: Skye Myers, Chase Corporation; Samantha Csisztu, QED Wire Lines Inc.; Connor Hartline, RichardsApex, Inc.; Bethany Prendergast, Stolberger Inc dba Wardwell Braiding; Melissa Solis, Carris Reels; Vanessa Solis, Carris Reels; Jenna Sunderland, Carris Reels; Amanda Zachow, Davis-Standard; and Morgan Anderson, Mossberg Associates Inc.
WCISA 2021 Employee & Intern Scholarship Winners: Elizabeth Burnham, Carris Reels; Patrick McKeighan, Carris Reels; and Alaina Mello, Teknor Apex
In 2022, WCISA is supporting the following events and organizations:
WCISA Directory 2022: Flipbook Edition
WCISA Directory 2022: PDF Edition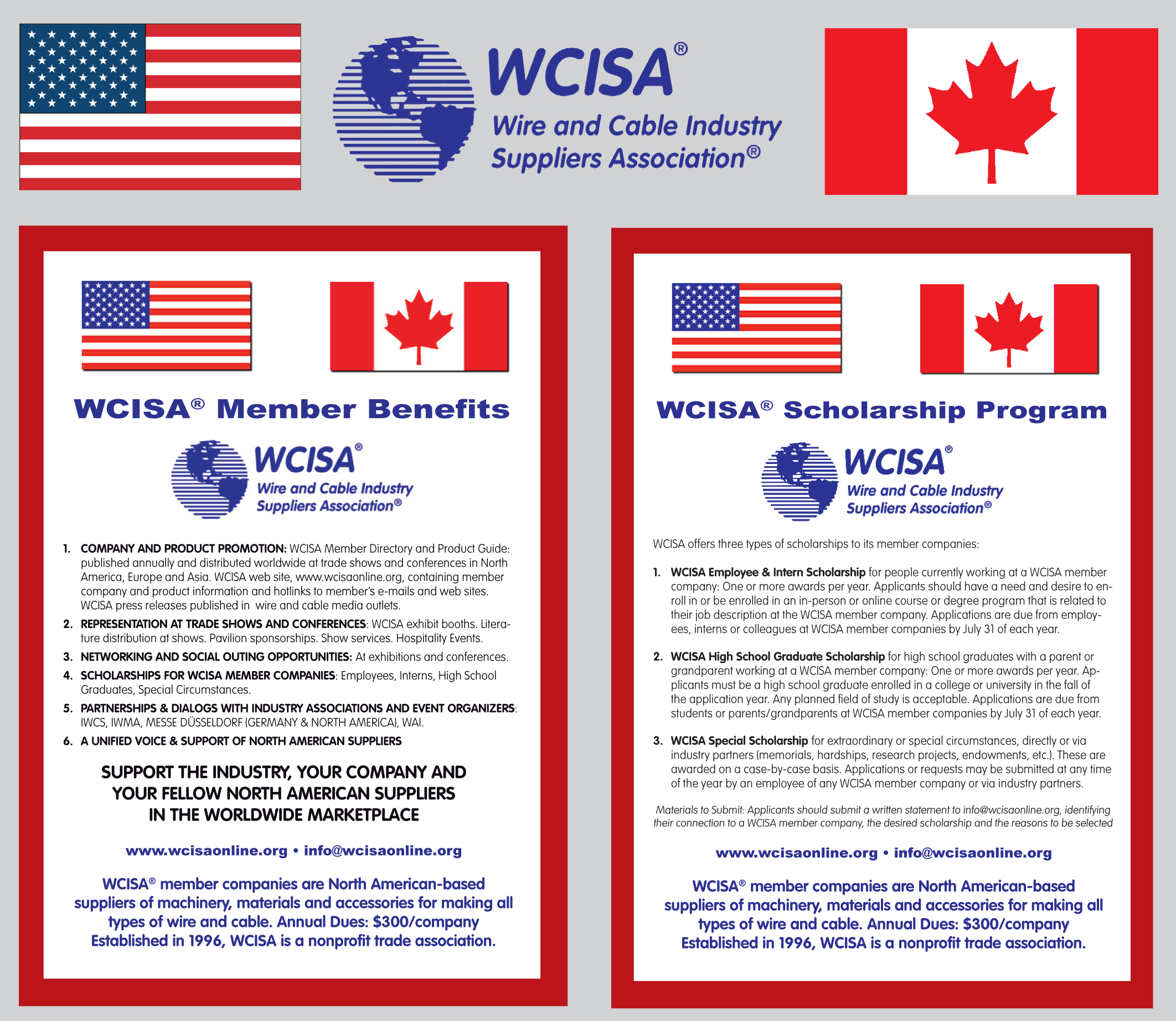 Click here for information on becoming a WCISA Member Company.
Click here for information on WCISA Member Benefits.