WCISA® · Wire and Cable Industry Suppliers Association® - is a nonprofit corporate membership association of North American suppliers of machinery, materials and accessories used for making all types of wire and cable. Members are based in or have an established subsidiary in North America. WCISA's mission is to promote its member's products and services by providing its members with representation, networking/social opportunities and services at wire and cable trade events and conferences. WCISA is active in wire and cable trade events and conferences throughout the world, in varying capacities, including as an exhibitor, supporter, sponsor and outing organizer. WCISA also awards to scholarships to employees and dependents of member companies as well as partner associations.
In 2020, WCISA Awarded 11 Scholarships:
WCISA 2020 High School Graduate Scholarship Winners: Chloe Ruelle, Condat Corporation, $1000 Alexis Gause, Chase Corporation, $500 Tyler Mathiasen, Mathiasen Machinery, $500 Justin Menker, NDC Technologies, $500 Kyle Ross, RichardsApex, Inc, $500 Ethan Waddle, M Holland, $500 Ryan Wasserman, IWCS, Inc., $500
WCISA 2020 Employee & Intern Scholarship Winners: Silas Osobajo, Stolberger Inc. DBA Wardwell Braiding Company, $1000 James Brooks, RichardsApex, Inc, $500 Alaina Mello, Teknor Apex, $500 Lee Richmond Jr., Western Engineered Products, $500
In 2021, WCISA is supporting the following events and organizations:
WCISA Directory 2021: Flipbook Edition
WCISA Directory 2021: PDF Edition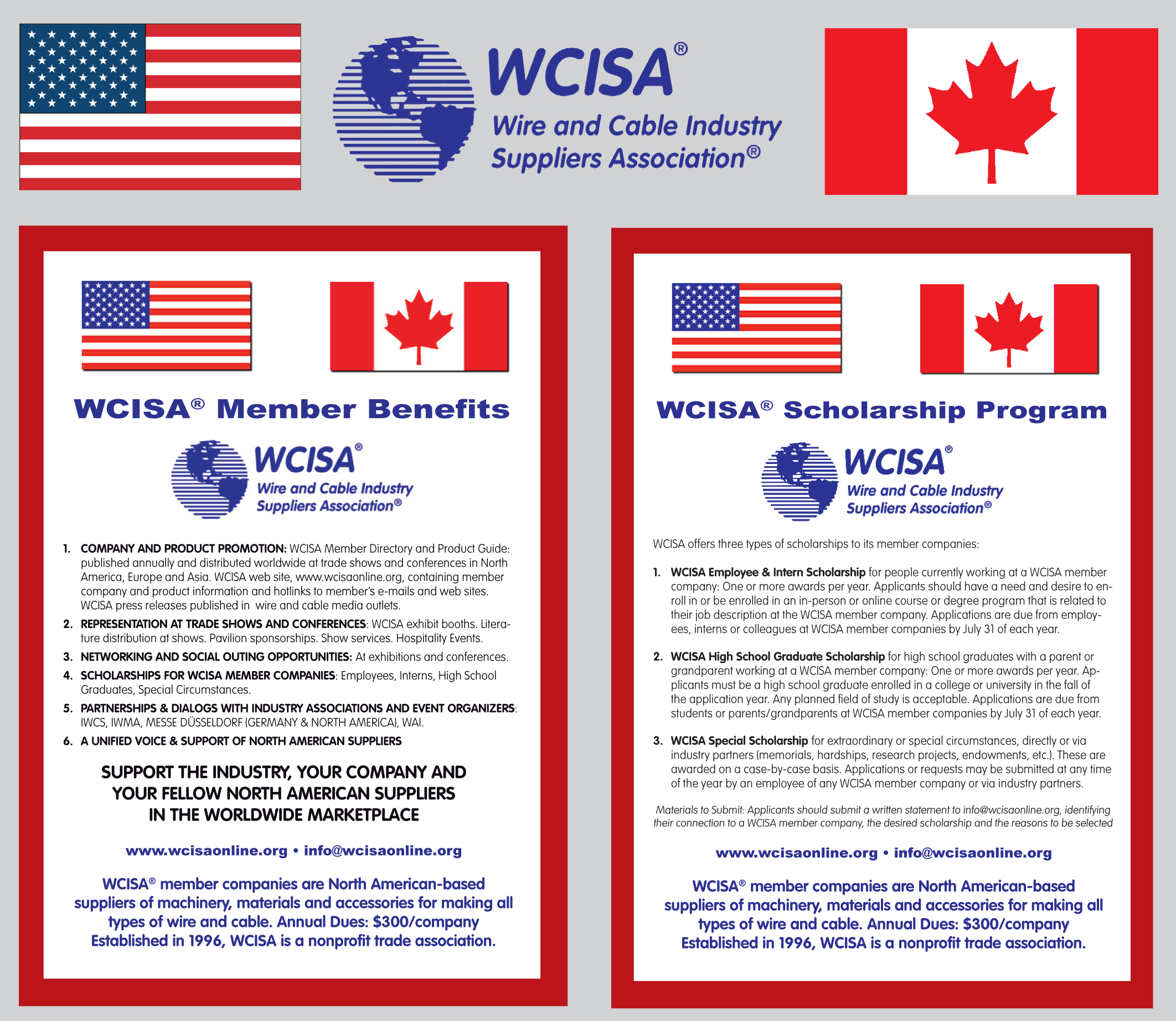 Click here for information on becoming a WCISA Member Company.
Click here for information on WCISA Member Benefits.